Cast98: Easy Cast Logistics For Theatre Directors
Automated Rehearsal Scheduling
& Audition Tools For Theater Directors
Actors self-manage their résumé and conflict calendar
Cast member conflicts automatically sync to rehearsal schedule
All-in-one-place stage management software
Self-Managed Conflict Calendars
Actors edit their own conflict calendar, right from their computer or smartphone. It saves paper and removes a heavy burden for very busy stage managers who would usually compile conflicts manually. Cast member conflict calendars sync automatically with the rehearsal schedule, and the show's director can approve or reject late changes.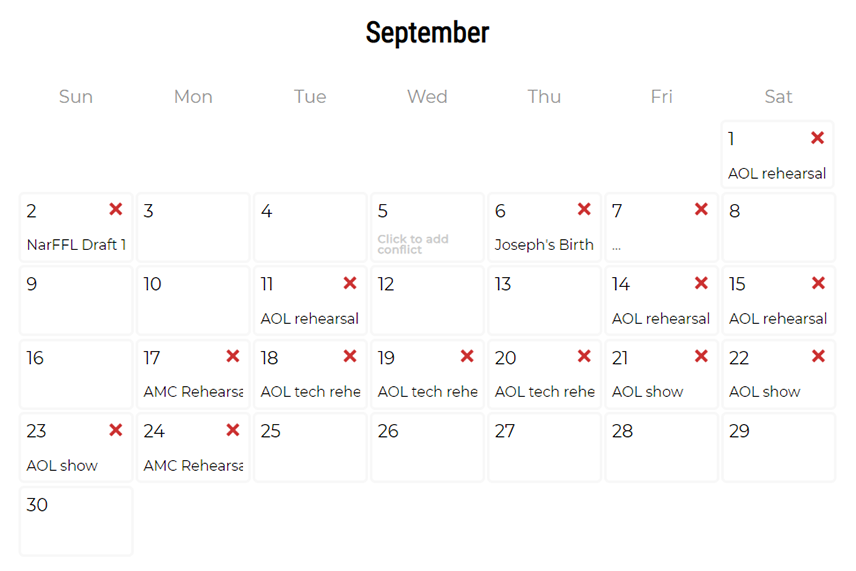 Auto-Syncing Schedule Builder
Directors can start building the rehearsal schedule as soon as they finish the cast list. Adding a rehearal takes about 30 seconds and Cast98 automatically imports the entire cast's conflicts for easy side-by-side comparison.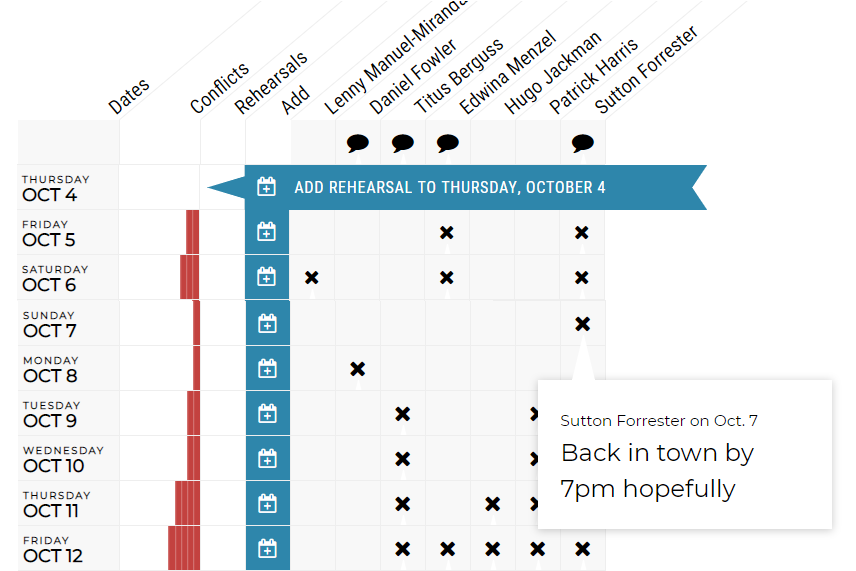 Start-to-Finish Auditions Manager
The auditionee dashboard is an all-in-one-place hub for online theatre auditions. Directors that want a full-featured tool to manage auditions logistics have access to online audition forms and auditionee scorecards for saving notes and rating performers in key skill areas.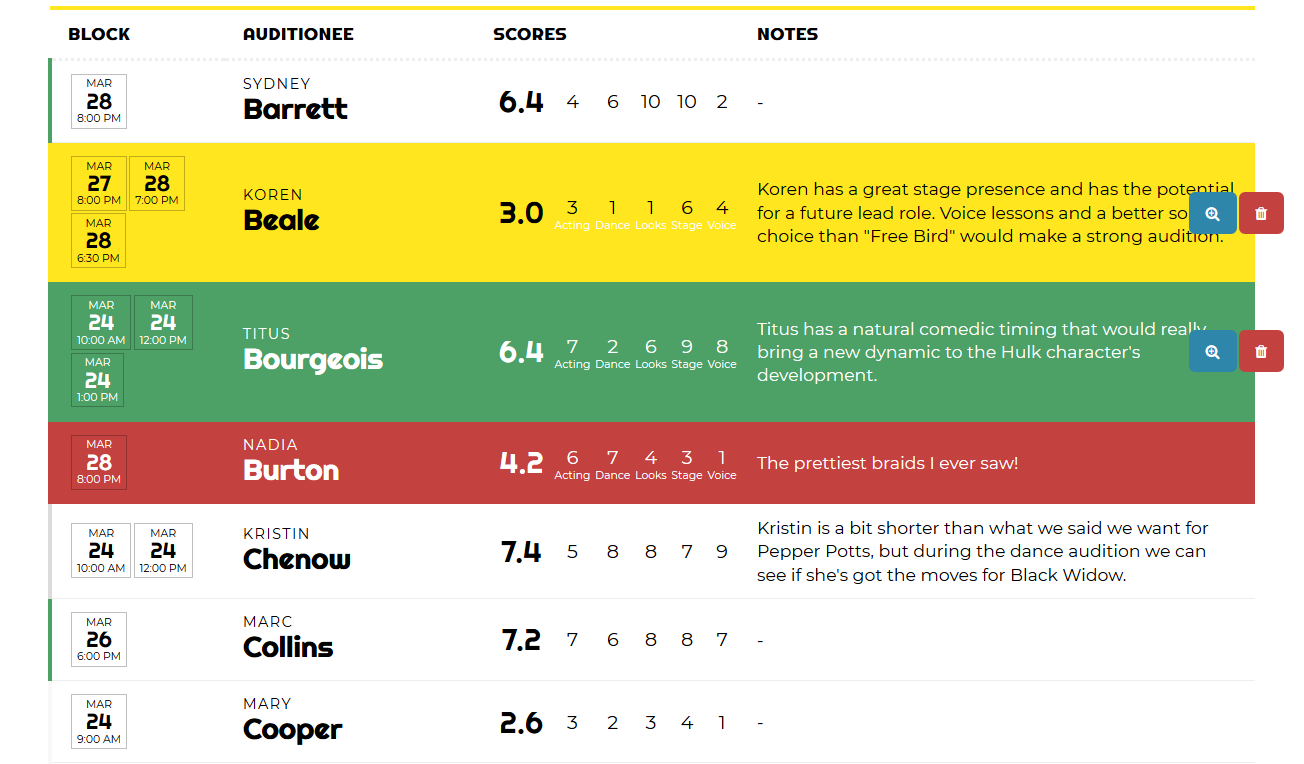 Personalized Rehearsal Schedules
Death to unwieldy spreadsheets! Cast members can login to view the rehearsal schedule at any time, and everybody gets a personalized schedule automatically. Actors see all of their rehearsals in one place and can export them to their favorite calendar app.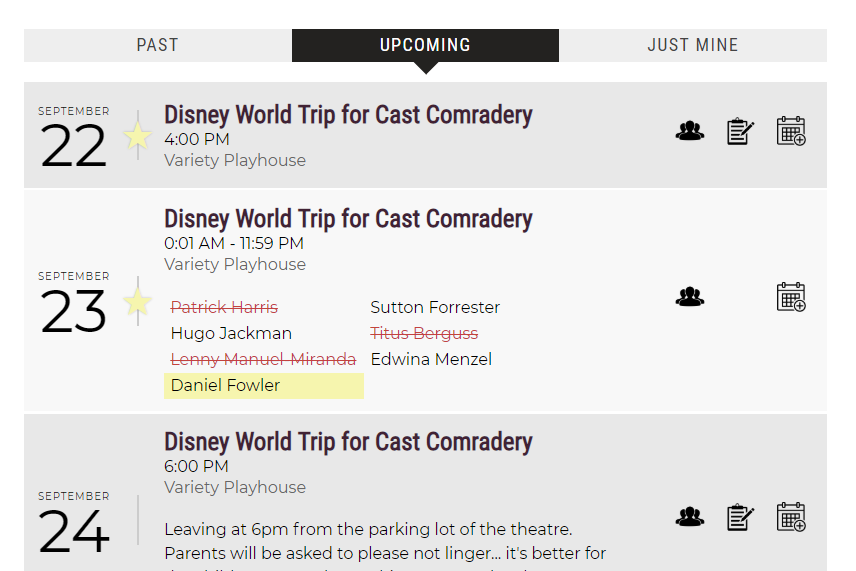 FAQs
No, you can't skip the auditions form and go straight to scheduling. The magic of our schedule builder is that it alleviates the burden on directors and stage managers by enabling actors to enter their own conflicts so that no one person has to do it alone. Skipping the auditions form (which is how actors submit their conflicts) seems like a fast-track solution but would result in more work in the end.
Answer 3 of 5
It will take you 15 minutes to get setup and stage managing your first show with Cast98. These tasks are only necessary once.
Invite your actors
Performers create their own profile and manage their own information. Directors post shows from their studio page. Performers opt-in for a show by completing an audition form, then the director can build a cast list and begin scheduling rehearsals.
Cast98 exists to help community theaters automate tedious show logistics. We're not here only for the big Broadway groups like other stage management software... we support local theater.
Our plain and simple price is $98 per show.
Did you know?
Performers manage their own profile and conflict calendar so stage managers don't have to.
Truth 2 of 7
It's simple:
Cast98 exists to help small-budget community theatres overcome the logistical challenges of putting on large-scale productions.
Almost all of our stage management tools are documented in our director's guides. Loaded with tips and tricks, these guides are great resources for first-time directors.