Cast98 is a comprehensive set of online tools that community theatres can use to digitize their show logistics. Built to make the most time and resource-intensive tasks as easy as brewing a pot of coffee, Cast98 handles performer logistics from auditions and casting all the way through rehearsal scheduling and post-show follow-up.
1. People accounts
All directors, stage managers, actors, dancers, and singers must have an account of their own. User profiles are 100% free and include contact information, emergency contact information, training and experience, a cast bio, and conflict calendar. As a director, your account is your keycard for accessing and editing show information. As a performer, having your online profile saves time because you don't have to fill out forms from scratch.
2. Studio pages
Studios can post shows on Cast98. The studio's creator can invite other users to become administrators of the studio. Any administrator can post shows on behalf of the studio, and performers can follow a studio to see news and upcoming events on their Backstage Dashboard.
3. Show pages
Studios can post shows on Cast98 and use the auditions features for free. The online audition form uses performer profiles to submit info to the show's director(s). The director can use the auditionee dashboard during auditions and the cast list builder immediately after. Everything a studio needs to operate auditions is included with absolutely no cost to performers or the studio.
Studios can pay a flat fee per show to make use of contact sheets, preformatted cast bios, and the powerful Cast98 rehearsal schedule builder. Subscription plans are available on an annual basis that allow studios to post any number of shows for free. Pay once for the whole season!
Note: All materials on Cast98 are digital, so there is never a need to print anything. From the cast list to the audition forms, from the contact sheets to the rehearsal schedule - it's all accessible online for directors and cast members. Auditionees who don't make the cast list won't be able to view any show materials.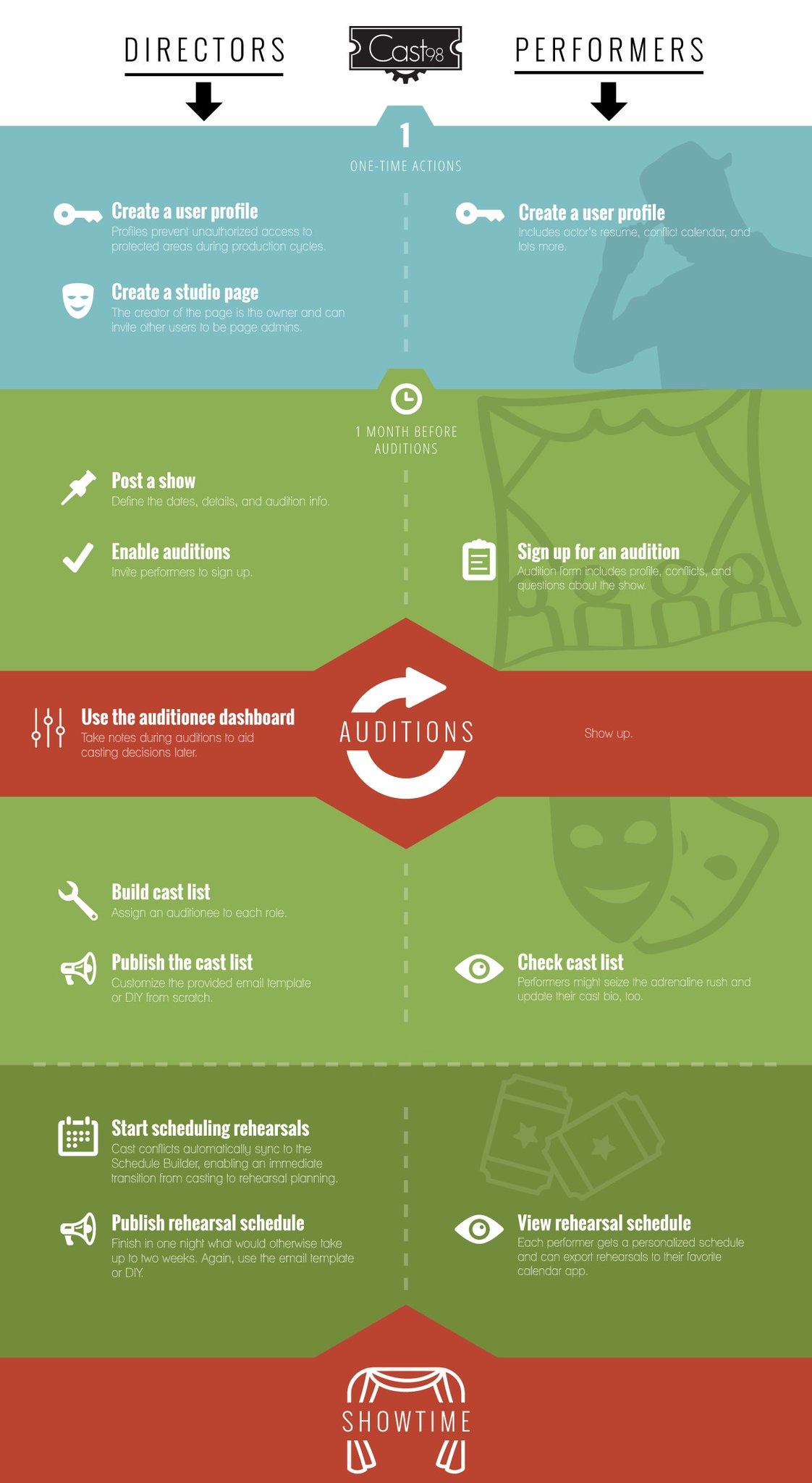 The Timeline
One-Time Actions
Directors: Create a user profile
Profiles prevent unauthorized access to protected areas during production cycles.
Directors: Create a studio page
The creator of the page is the owner and can invite other users to be page admins.
Performers: Create a user profile
Includes actor's resume, conflict calendar, and lots more.
One Month Before Auditions
Directors: Post a show
Define the dates, details, and audition info.
Directors: Enable auditions
Invite performers to sign up.
Performers: Sign up for an audition
Audition form includes profile, conflicts, and questions about the show.
During Auditions
Directors: Use the auditionee dashboard
Take notes during auditions to aid casting decisions later.
Immediately Following Auditions
Directors: Build cast list
Assign an auditionee to each role.
Directors: Publish the cast list
Customize the provided email template or DIY from scratch.
Performers: Check cast list
Performers might seize the adrenaline rush and update their cast bio, too.
Paid Features
Directors: Start scheduling rehearsals
Cast conflicts automatically sync to the Schedule Builder, enabling an immediate transition from casting to rehearsal planning.
Directors: Publish rehearsal schedule
Finish in one night what would otherwise take up to two weeks. Again, use the email template or DIY.
Performers: View rehearsal schedule
Each performer gets a personalized schedule and can export rehearsals to their favorite calendar app.